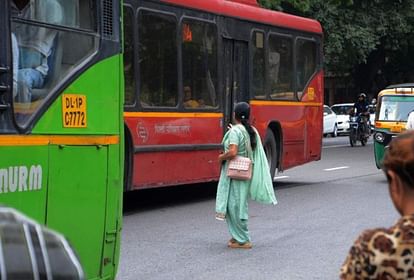 dtc bus
– Photo: Amar Ujala
Expansion
The Republic Day parade will begin on Thursday from Vijay Chowk in Delhi. The parade will reach Red Fort via Kartavya Path-India Gate-Princess Place Gol Chakkar-Tilak Marg-Bahadur Shah Zafar Marg-Delhi Gate-Netaji Subhash Marg. In such a situation, the movement of buses on these routes will be closed from 4 am. As per the instructions of the traffic police, the Delhi Transport Corporation has made arrangements for the smooth operation of the buses. Under this, vehicles will be diverted to other routes from 4 am in Vijay Path, Vijay Chowk, Kartavya Path, India Gate, Tilak Bridge area. 13 routes of DTC have been changed.
Buses will be diverted on these routes

Buses leaving Shanti Path for Connaught Circus/New Delhi Railway will go to Connaught Circus via Panchsheel Marg, Simon Bolivar Marg, Upper Ridge Road, Shankar Road Gol Chakkar, Park Street, Mandir Marg, Panchkuian Road. While returning, the buses will go via Bhagat Singh Marg, Peshwa Road. Due to this, the services of 604, 620 and route number 680 will be affected.
There will also be a change in the routes of buses going to Vinay Marg-Connaught Place and New Delhi. Buses of this route will return via Bhagat Singh Marg and Peshwa Road. Route number 781 buses will ply on the diverted route.
Routes of buses coming from Aurobindo Marg-Lodhi Road T Point and Safdarjung Road have also been changed. For this, after change in bus route number 433, 460, 505 and 615, the buses will pass through Bhagat Singh Marg, Peshwa Road. Buses from Aurobindo Marg to East Delhi, ISBT, Old Delhi Railway will be diverted at Lodhi Road T-Point. Thereafter the buses will stop at Oberoi Hotel, Mathura Road Bhairo Marg, Ring Road ITO Flyover, IG Stadium, Velodrome Road, New Ring Road parallel to Yamuna River till Mori Gate in both directions and terminate at Mori Gate. Buses of route number 502 will go to the destination from Nila Gumbad.

Buses passing through Lodhi Colony-18 Block (4th Avenue), Mathura Road will be diverted from Bhairo Road T-Point. Buses will go through Ring Road and terminate at ISBT or Mori Gate.
Buses from Ring Road to Old Delhi and ISBT have been diverted from Sukhdev Vihar. Route number 272 buses passing through Vikas Marg and Laxmi Nagar will terminate at Rajghat Depot.

Buses plying between Mori Gate from West and North Delhi will terminate at Gokhale Marg. Buses going to ISBT from North and East Delhi will be terminated at Nityananda Marg Tourist Centre, while buses plying on Route No. 3, 105, 112, 113, 171, 185, 227A, 258, 271 and 901 will return via Chandgiram Akhara.
– Airport Express- 729 and 729B buses after Dhaula Kuan will go to ISBT via Upper Ridge Road via Shankar Road, Mandir Marg, Rani Jhansi Road, Boulevard Road. Teev Mudrika buses will ply on Velodrome Road and Ring Road parallel to Yamuna.
– From West and North Delhi to Paharganj, Kamla Market Police Station near Ajmeri Gate only. Buses plying on Route No. 85, 85 Extension, 100 Extension, 966, 966 Extension, 990, 990A will ply from Pusa Road, Deshbandhu Gupta Road till Shivaji Stadium only.
Buses plying between Connaught Place and Central Terminal from Shankar Road will go via Park Street roundabout via Mandir Marg, Panchkuian Road, Bhagat Singh Marg to Shivaji Stadium. Buses of route numbers 810, 944, 970, 970C, 980 will terminate at Park Street T Point roundabout.
Buses going to East Delhi via Dhaula Kuan-Sardar Patel Marg will terminate at New Delhi Station, Gate No. 2. Route number-740 and 740 extension buses will be diverted on Ring Road ahead of Dhaula Kuan. After this it will reach Anand Vihar via Sarai Kale Kho, NH-24, Mother Dairy.
Buses plying on route numbers RL-75, RL-77, 77A, 77B, 77 Extension and RL-79 will ply from Dhaula Kuan via Upper Ridge Road, Shankar Road, Mandir Marg, Panchkuian Marg. All the buses will return via Bhagat Singh Marg. The routes of buses going from Shankar Road to South Delhi have also been changed. Under this, buses of route number-47A, 408, 410 will go through Vande Mataram Marg, Simon Bolivar Marg, Panchsheel Marg, Kamal Ataturk Marg, Safdarjung Road, Lodhi Road.