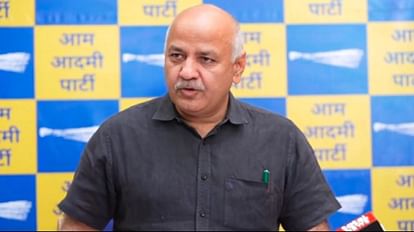 Delhi Deputy CM Manish Sisodia (File)
– Photo: Video Grab
Expansion
Deputy Chief Minister Manish Sisodia on Tuesday accused the Lieutenant Governor and Chief Secretary of taking decisions bypassing the elected Delhi government. He said that granting sanction for unlawful prosecution could absolve many accused of serious crimes against the state. In this regard, he also reprimanded the officers. The Chief Secretary has been directed to present a list of all such cases by 5 pm on Wednesday, in which approval has not been taken from him.
Sisodia has asked the Chief Secretary to present a list of all cases of sanction for prosecution issued against the rules in six months, as this has created a legal crisis. Section-196 of IPC says that in case of offenses committed against the State, no court shall take cognizance of any such case except with the approval or sanction of the State Government. Many heinous crimes fall in this category. According to the Law Department of the Government of Delhi, the state government in this law means the elected government. This means that the minister in charge is the competent authority and the minister's approval is necessary in all these cases.
After the minister's approval, the file will be sent to the lieutenant governor to decide whether he disagrees with the minister's decision or wants to send it to the president. The same process was being followed till a few months ago, but since a few months, the Chief Secretary has started sending all these files directly to the Lieutenant Governor, bypassing the minister. The Lieutenant Governor also gave approval in all these cases, although he does not have the authority to give approval. Therefore, the sanction granted for prosecution in all such criminal cases in a few months is invalid and the accused can be acquitted when they raise the matter in the court.
Section-196 of CrPC

Sisodia said that in the case of certain offenses under Section 196(1) of the CrPC, statutory sanction for prosecution from the state government is an essential condition. It includes offenses like hate speech, hurting religious sentiments, heinous crimes, sedition, rebellion against the state, promoting enmity. As per Supreme Court orders, the elected government will exercise executive powers to give statutory sanction for prosecution under Section-196(1) of CrPC and the LG will be bound by the aid and advice of the Council of Ministers. There is no power to give unilateral approval apart from the aid and advice of the Council of Ministers.