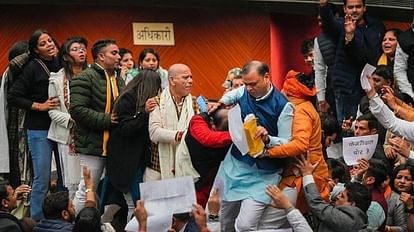 MCD Mayor Election file pic
Expansion
The corporation has suffered a loss of about Rs 22 lakh due to sabotage in the first meeting of the house on January 6 for the election of mayor. MCD has prepared its draft and sent it to the LG office. At the same time, senior officials of the MCD say that on the basis of the video of the ruckus in the House, preparations are being made to mark the councilors and compensate them for the loss.
MCD Secretary Bhagwan Singh said that the furnishings in the Aruna Asaf Ali Auditorium, located on the fourth floor of Civic Center A Block, are very expensive. The price of the mike here is very good. The chairs and other furniture are of good quality. All the furnishings have been installed for the corporation members to sit. A lot of goods have been damaged due to the vandalism during the ruckus, due to which a loss of about Rs 22 lakh has occurred.
no councilor without taking oath

In the first meeting of the House convened on January 6 after the MCD elections, the councilors who had won the elections from the Aam Aadmi Party and the BJP created ruckus and then vandalized it. These members have not yet been sworn in and therefore are not officially councilors yet.
According to the DMC Act, the mayor has the right to take action against the councilors in the house. The mayor can suspend the councilors who create ruckus for the next one or two meetings. But neither the oath of the members nor the election of the mayor has been done yet. That's why the corporation has left the decision on what action to be taken against these newly elected councilors on the LG office itself.

There is a possibility of uproar in the meeting of January 24

The Corporation is anticipating uproar in the next meeting of the House to be held on January 24. Both the Aam Aadmi Party and the BJP are sticking to the old issue. On the other hand, there are some councilors from both the parties who are in favor of holding the House meeting peacefully so that the Mayor, Deputy Mayor and six members of the Standing Committee can be elected.