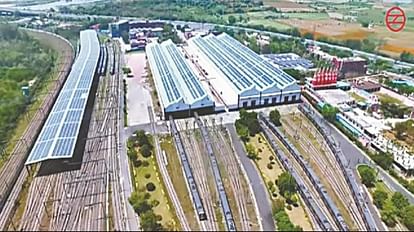 Shastri Park Depot…
– Photo: Amar Ujala
The Delhi Metro Rail Corporation (DMRC) has made preparations to generate about one crore units of electricity from sunlight on the under-construction corridor of Metro Phase-IV. Metro will get about 10 MW additional solar power from all the three corridors. About 47 MW of solar power is currently being generated in the metro network within Delhi-NCR. It will be used by Metro itself. At the same time, network expansion will save 573 million hours annually in 2031. With this, lakhs of passengers will be able to make good use of the time wasted in traffic jams on the roads.
Construction is going on within a radius of 65 kilometers of the three corridors of Phase-IV of Delhi Metro. Around 33% construction has been completed on the RK Ashram-Janakpuri (West), Tughlakabad-Aerocity and Maujpur-Majlis Park corridors. By 2025, Metro services will start on the Phase-IV corridor as well. Solar equipment and plants will be installed on rooftops, parking lots and sheds including metro stations to capture solar energy.
In the year 2014, DMRC took a step towards renewable energy with 500 KW solar power in Dwarka Sector-21 for solar power. Presently, out of 115 station complexes in Delhi, 37 are getting solar power equipment while Noida is getting 10 MW. With the generation of additional 10 MW of solar power at Metro stations on all the three corridors of Metro Phase-IV, Delhi Metro will become 60 MW productive. Solar energy is meeting 35% of the total power consumption for Metro operations and meeting the needs of stations.
Energy production is also increasing through Resco model

Under the Renewable Energy Service Company (RESCO) model, installation of solar plants on the roofs of government buildings has been started. Under this, the initiative agency will not get subsidy, but will not have to spend anything for solar plants on the roofs of metro, parking.

Earned crores of rupees from 35.5 lakh carbon credits in six years

Delhi Metro is the first such service in the world, where the carbon credits earned by reducing the emission of greenhouse gases are also earning. Four of its projects have been registered with the United Nations Framework Convention on Climate Change (UNFCC). This includes activities related to solar projects apart from regenerative braking. Under the Kyoto Protocol, it allows the public and private sector in countries to buy carbon credits from projects that reduce greenhouse gas emissions. DMRC has earned an income of Rs 19.5 crore from the sale of 35.5 lakh carbon credits during the last six years by investing in Clean Development Mechanism projects.
Metro will reduce lakhs of vehicles from the roads

According to a study by Tata Energy Research Institute (TERI), in the year 2021, initiatives towards clean energy and increase in metro network will reduce five lakh vehicles daily from the roads. This will also save 2.55 lakh tonnes of fuel spent on private vehicles. Due to Metro services, carbon emissions will also reduce by 7.66 lakh tonnes annually. More than 5,35,150 saplings have been planted by DMRC so far. In these, along with meeting the lack of oxygen in the environment, it is also helping in reducing pollution.

kinetic energy is stored

Under regenerative braking, the kinetic energy generated by braking is stored instead of dissipated to reduce the speed of the metro. It is used later as per the need. This reduces the dependence on other sources to meet energy requirements. Other devices including batteries, compressed gas, supercapacitors are used to store energy. Regenerative braking increases the overall energy efficiency of the Metro. Thus the life of the system is also longer with the brakes.
sources of solar energy
37 MW from DMRC
10 MW received from Noida
99 MW received from Rewa