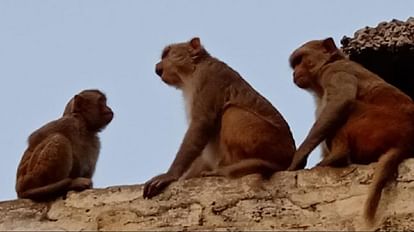 monkey..
– Photo: Amar Ujala
Expansion
The Delhi government said surgical sterilization is not working on monkeys and professionals are also not coming forward to help control their menace. The government gave this information in the High Court on Friday. The contention was made by the Delhi government before a bench of Chief Justice Satish Chandra Sharma and Justice Subramaniam Prasad on a plea seeking records from the state on funds sanctioned by the Center and funds spent to curb the menace of monkeys.
The bench asked petitioner Shashwat Bhardwaj to place on record a copy of an earlier order of the High Court in which certain directions had been issued to deal with the menace caused by monkeys. The bench fixed the matter for hearing on March 22. The petitioner has also sought setting up of a committee comprising senior bureaucrats, wildlife experts and members of the Bar, who have campaigned extensively for animal rights, to ensure effective implementation of the High Court's directions, particularly in relation to New Delhi. work done.
During the hearing, Delhi government's standing counsel Santosh Kumar Tripathi said the state has received funds from the Center for the purpose and a tender was floated for hiring monkey catchers, but no one came forward. The counsel argued that surgical sterilization of monkeys is not possible and such efforts have not been successful in many parts of the country. He said that monkeys are given oral contraceptive pills in captivity but these pills have their own side effects.
Answer sought from the Center on the issue of employment of transgenders

The Delhi High Court on Friday sought response from the Center on a plea seeking employment and quota for transgenders in public appointments. Justice Pratibha M Singh has made the central government a party to a transgender's plea. The petitioner has also sought effective implementation of the provisions of the Protection of Rights of Transgenders Act, 2019.

The petitioner stated that various posts advertised have a specific requirement regarding the gender of the candidate being male or female. The government's counsel said that since then steps have been taken to update the portal and it now recognizes male, female and transgender as options for candidates.