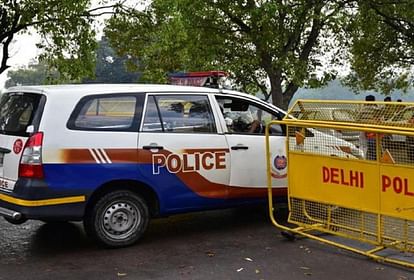 file photo
Expansion
After the Kanjhawala incident, questions are being raised on the PCR system. On the night of 31 December, PCR vans were stationed at five points, 13 kilometers from Sultanpuri to Kanjhawala. Seeing Anjali being dragged from the car, passers-by made 17 PCR calls. After getting the information that the girl was dragged from the car, the staff of two PCRs refused to go on the route saying that there was no area.
After this, three PCRs also talked about not getting anything on the road after circling here and there. After all this, questions started arising on the entire PCR system. In fact, former Police Commissioner Rakesh Asthana had abolished the PCR unit and attached the PCR vans to the police stations.
After this, the staff posted on the PCR van started quarreling over the police station area. In the old system, on receiving a call, the PCR van deployed in the entire district used to go to the area of ​​any police station. After the Kanjhawala incident, the entire PCR system was asked to be reviewed again.
Amidst the questions arising regarding the PCR system, six reporters of Amar Ujala did a reality check of PCR vans on six different routes. The situation was found to be very pathetic in most of the places. In such a situation, the question is arising as to how the residents of Delhi will be protected.

PCR deployed in the security of police headquarters was seen

Location : Greater Kailash to Gol Post Office

Time: Between 10 am to 11 am

Route: Approx 15 kms
PCR vans were found stationed at just one place between Greater Kailash and Gol Post Office. She was also stationed outside the police headquarters on Ashok Road. Here in front of the police headquarters, the PCR was just visible standing. Started taking stock of PCR van from Greater Kailash-1 police station. After walking some distance, a PCR van (registration number-7721) was seen going towards M-Block in GK-1.
It seemed that the PCR van was passing by instead of being stationed there. Later, PCR vans were not stationed anywhere near Oberoi Hotel, Zakir Hussain Marg and India Gate via Lala Lajpat Rai Marg on Moolchand flyover. A PCR van was stationed on the duty path at India Gate. After this, PCR was not seen deployed anywhere from India Gate to Gol Post Office. Only the PCR van (registration number-3606) was seen stationed in front of the police headquarters. On these routes, traffic policemen were seen issuing challans in front of Moolchand Central School and in front of Kothi No. 36 on Ashok Road.

Not a single PCR was seen till 11 km

Location: Laxmi Nagar to Mandir Marg, Connaught Place
Timings: Between 11.30 am to 12 noon

Route: Approx 11 kms

Earlier PCR vans were seen continuously on Vikas Marg of Laxmi Nagar, but not a single PCR van was seen on Sunday. After Laxmi Nagar and Shakarpur police station, there is IP Estate police station on this road. No PCR van was seen moving from Laxmi Nagar to ITO. On the way to Mandir Marg, a PCR van was seen stationed at the BJP headquarters while taking stock of Deen Dayal Upadhyay Marg. which is already there. After this, not a single PCR van was seen on Minto Road, Connaught Place. While coming from Shivaji Stadium to Mandir Marg via Peshwa Road, not a single PCR van was seen.
Only one PSR is responsible for the security of 20 km.

Location: Najafgarh to Jaipur Highway

Timings: Between 11.00 am to 12.00 noon

Route: Approx 20 kms

Between 11 am and 12 noon, only one PCR van of Delhi Police was found on the route of about 20 kilometers from Najafgarh to Jaipur Highway. From 11:10 am to 11:10 am Najafgarh to Dwarka More, from 11:10 am to 11:15 am, from Dwarka More to Dwarka Sector-3, from 11:15 am to 11:30 am from Dwarka Sector-3 to One, both in Rajapuri only PCR van was found standing on the side, while from 11:30 am till 12 noon, not a single PCR van was found standing and patrolling from Dwarka Sector-I to Jaipur Highway. Incidents of snatching keep happening in Mangalapuri in the middle of this route. Apart from this, there is also T-One airport.
PCR found missing from its point

Location: Jamia Nagar to Hazrat Nizamuddin

Timings: Between 12.15 PM to 1.00 AM

Route: Approx 10 kms

Normally PCR van is always stationed outside Jamia Nagar police station, but at 12 noon on Sunday, PCR van was missing from here. After Jamia Nagar University, PCR was not present even on the picket. After this, PCR vans were also not found at Sarai Jullena, in front of Surya Hotel, Mathura Road-New Friends Colony, Ashram, Bhogal Hospital Road. Even though it was Sunday, the PCR van of Nizamuddin roundabout was also found missing from there.
Police seen searching vehicles

Location: Mayur Vihar to Gol Post Office

Timings: 10 am to 11 am

Route: Approx 12 kms
Police was seen searching vehicles by barricading before Akshardham flyover on Noida-Delhi Link Road. The police were seen opening the trunk and searching several vehicles by putting them on the side. The documents and driving license of the vehicles were being checked. A little further ahead, PCR was standing in front of Akshardham Metro station. There was also light barricading, but vehicles were moving without any hindrance. On moving towards ITO, even before the Yamuna bridge, police personnel with patrolling bikes were seen standing. From here onward, traffic was moving smoothly from ITO, Mandi House, Patel Chowk Metro Station, Gurdwara Bangla Sahib to Gol Dakkhana. But here also the PCR van was not stationed.
PCR did not appear at these places also

Location: Najafgarh to Nehru Park

Timings: 10:30 AM to 12.30 PM

Route approx 30 kms

Walked from Bahadurgarh Road of Najafgarh at 10:30 in the morning, an empty PCR was seen near Anaj Mandi, some distance away. A little ahead of this, PCR often stands near Gupta Market, but was not seen on Sunday. At about quarter to 11, the police appeared at Najafgarh, near Delhi Gate. PCR was not seen anywhere on Old Kakrola Road. There was police at the outpost near the drain. Via Sector 14 Metro Station. Police was not seen even near the outpost near Sector 13 red light. No PCR was seen from its Dwarka Road, Palam Road, Airport Road, Airport Terminal-1 to Motilal College. After that, no PCR van was seen from Moti Bagh to PSOI at around 12:30.
PCR van seen ready only here

Location: Ridge Road to Jhande Walan Metro Station

Timings: 7:15 PM to 8.00 PM

Route: about 5 kms

Police deployment was visible as they proceeded from Jhandewalan Metro station. While going on the Vande Mataram route, PCR was seen stationed there. Apart from this, two PCRs were also patrolling on the road. Here the police appeared fully prepared. PCR was also present near Shankar Road Gol Chakkar. In this area, the police was seen very ready.