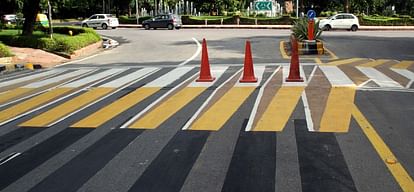 code picture
Photo: G Paul/Amar Ujala
Expansion
The Delhi government is making efforts to make the capital's roads beautiful, safe and world-class. In this series, projects worth Rs 17.79 crore were approved on Tuesday. Strengthening and beautification of the road from Deenpur Kachha Talab and Tajpur turn to police check post on Anuvrat Marg and Goyla Deenpur Road in South Delhi will be done.
Also, the drain built along GT Road will be reconstructed. After the completion of all the three projects, there will be no problem of water logging during monsoon season on Goyla Dinpur Road and GT Road.
PWD Minister Manish Sisodia said that in order to provide smooth commuting experience to the people of Delhi, to strengthen and make the roads all-weather friendly, the government is getting regular assessments done by the team of experts. IIT Roorkee has also conducted a survey.
Under this, a blue-print is being prepared to make the roads strong and safe. Work is being done to improve the roads under PWD in a systematic manner.

Due to the old roads, cracks have started appearing on the upper surface. Due to this, there is a problem in the movement of vehicles at many places. Therefore, the work of strengthening is being started. PWD officials have been instructed to complete the works of strengthening of roads in time.
Instructions to increase the height of the road

The cost of the road strengthening project up to 2.50 km on Anuvrat Marg is Rs 7.82 crore. The cost of strengthening of Goyla Dinpur Road is Rs 8.07 crore for 4.2 km. To eliminate the problem of water logging, it has been asked to increase the height of Deenpur road.

The other project includes reconstruction of existing drain along GT Road from opposite side of Mansarovar Park to Kendriya Vidyalaya at a cost of Rs 1.90 crore. At the same time, maintenance of footpath and central verge will also be done. Paint work on road marking, parapet wall/railing etc. will also be done as per the norms.