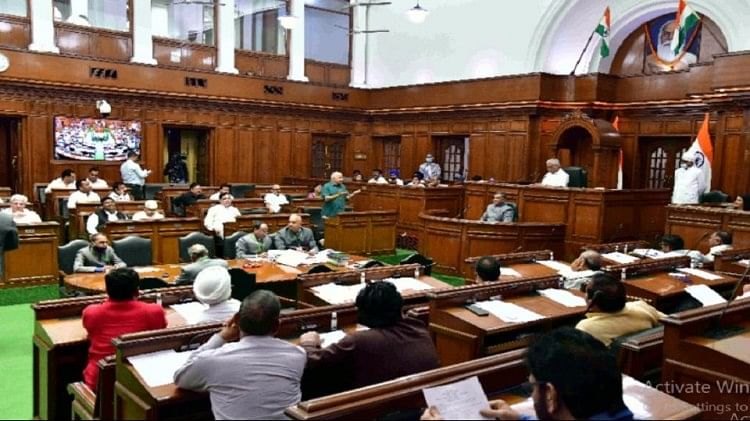 Delhi Assembly (file photo)
Photo: amar ujala
Expansion
The three-day session of the Delhi Assembly will begin from Monday. There is a possibility of an uproar in the session running from 16 to 18 January. One, the BJP is demanding to extend the session for ten days, while the ongoing tussle over the MCD Mayor election and the ongoing conflict between the Lieutenant Governor and the Delhi government will also have an impact on the assembly session.
The party and the opposition have prepared a complete strategy regarding the Delhi Assembly session. Where the ruling party will be aggressive about the Lieutenant Governor and will attack the BJP government at the Center for obstructing the work of the elected government, then the members of the opposition will also stand in the dock on the functioning of the Delhi government. The ruling party can also bring a resolution condemning the Mohalla Clinic and the election of the MCD mayor.
The opposition says that the Delhi government has become dictatorial. Wants to avoid public questions, that is why the duration of the session has been kept short. Trying to avoid public questions and trying to remove question hour from assembly session. But sources reveal that if more sessions are required for discussion, it can be extended for a day or two. Looking at the issues of the government, the speaker of the assembly will take a final decision on this. In view of the current situation of Corona, all the members have been asked to wear masks inside the House.
Debate can be sparked on these issues
Apart from the recent meeting of the MCD House, there will be a situation of confrontation over the Mayor election dispute.

On the conflict between the Lieutenant Governor and the Delhi Government, both the parties can create ruckus by making allegations and counter-allegations.

The AAP leader may accuse some officer of suppressing important files under pressure from the central government. BJP will try again and again to have a debate on the issue of public interest, will make development an issue.

The ruling party is also preparing to raise the mohalla clinic controversy loudly in the House.

The ruling party will also make the CBI raid an issue.