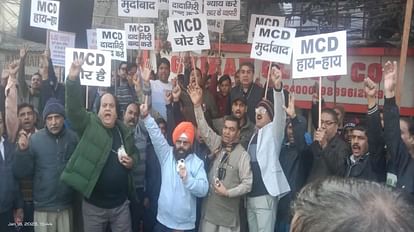 Traders protest against sealing by hanging lock
– Photo: Amar Ujala
Expansion
Traders under the leadership of Federation of Sadar Bazar Traders Association have opened a front against sealing in Delhi. Traders protested against this on Wednesday by hanging a lock around their neck. Announced that they will hand over the memorandum to the Lieutenant Governor by marching on foot on Thursday. He said that now show-cause notices have also started coming. Due to this, the business class is not able to do its business properly. There is an atmosphere of fear among the traders due to the sword hanging from the ceiling.
Association's chairman Paramjit Singh Pamma said that the protest will continue till the ceiling sword ends. On Thursday, traders will march on foot and submit a memorandum to Delhi's Lieutenant Governor VK Saxena. On this occasion, Rajinder Sharma and Yogendra Chaudhary said that this movement will continue for a long time. Until the seal of the shops is opened, the traders will remain sitting on the streets. Before this, under the chairmanship of Chairman Pamma and President Rakesh Yadav, the aggrieved traders took to the streets to protest by hanging the ceiling lock around their necks.
On this occasion, Federation Executive President Chaudhary Yogendra Singh, General Secretary Rajinder Sharma and other traders raised slogans including MCD hi-hi, stop the sealing action and demanded to stop the sealing action. Federation President Yadav said that the trader of Sadar Bazar has become frustrated due to the sealing action. For this reason, now we have to go on the streets and protest.