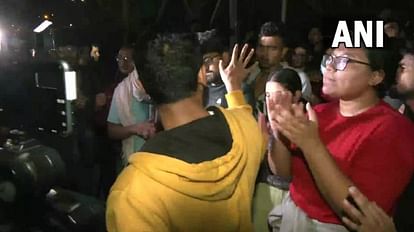 Demonstration of students outside Vasant Kunj police station.
– Photo: Amar Ujala
Expansion
Ruckus is going on in JNU over the screening of controversial BBC documentary. Even at this time, student protests are going on in JNU. The march against the university administration has started in the campus and the police have also arrived. Students belonging to Left organizations are taking out a protest march from JNU campus to Vasant Kunj police station. Allegations of stone pelting have also been made by student groups but there was no confirmation of stone pelting from the police. Students protested late night outside the police station in Vasant Kunj.
JNU Students' Union President Ayesha Ghosh says that ABVP has pelted stones but so far no action has been taken by the administration. We have almost completed the screening of the film. Our priority is to restore power. We will file an FIR. On the other hand, Gaurav Kumar, a student associated with ABVP regarding stone pelting, says that do these people making allegations have any evidence that we pelted stones? We have not pelted any stones. On the other hand, Delhi Police says that if we get any complaint from JNU then necessary action will be taken.
Earlier on Monday, a group of students at Jawaharlal Nehru University tried to screen the controversial BBC documentary on Prime Minister Narendra Modi on the evening of Tuesday, January 24, despite a warning given by the administration on Monday.
As per information, the screening of the documentary was organized by the JNU Students' Union. While the administration did not allow it. As soon as the matter of showing the documentary without permission came to light, the administration shut down the electricity and internet service of the student union office. Despite this, however, every effort was made by the students to show the documentary.
PM Allegations of misrepresenting Modi's image
The documentary was made by the BBC. The Government of India had expressed displeasure on this. At the same time, the government had banned it as controversial and banned the social media accounts of BBC. It is alleged that it has been made with the aim of misrepresenting the image of PM Modi. The documentary attempts to assign blame for the communal riots that took place when Narendra Modi was the Chief Minister of Gujarat. While he was given a clean chit in this matter by the Supreme Court. The Ministry of External Affairs had objected to the British broadcaster regarding this.
Screening was also done in University of Hyderabad

This BBC documentary on Narendra Modi's role in the 2002 Gujarat riots was also screened at the University of Hyderabad on Saturday, 21 January. The Akhil Bharatiya Vidyarthi Parishad (ABVP) had lodged a complaint with the university administration regarding the screening of a documentary titled India: The Modi Question. After which the officials called for the report. Meanwhile, amid the controversy, three political groups in Kerala also announced that they would be screening the documentary in the state.