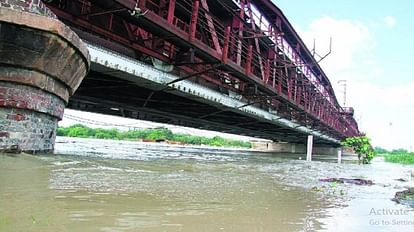 Yamuna
– Photo: Amar Ujala
Expansion
Delhi Assembly will get Yamuna water tested. On Friday, Assembly Speaker Ram Niwas Goyal ordered the Delhi Jal Board and a private agency to collect water samples. Samples will be taken from three places at a distance of one kilometer each. The lab test report will match with the claims of the BJP MLAs, if the claims are found to be false, the Speaker can take action against the MLAs.
Addressing the press at the conclusion of the winter session of the Vidhansabha, Ram Niwas Goyal said that after investigation the report would be placed on the floor of the House. If the BJP's claim is found to be false in the investigation, action will be taken as per the rules. In fact, on Wednesday, the BJP MLA had reached the House with dirty water in a bottle. Also claimed that Yamuna water has become 200 percent more polluted in eight years. The water of Yamuna has turned into acid. Meanwhile, the Assembly Speaker said that he would get the water tested and if acid was not found in the water, he would cancel his membership.
Security breach during session

Ram Niwas Goyal said that there were several lapses in security during the House. The BJP MLA reached the House with a gas cylinder. When Marshall was asked to take the cylinder, he took it inside, but went outside and gave it away. Apart from this, there have been security lapses at many other places as well. A report has been sought from the security officials in this matter.