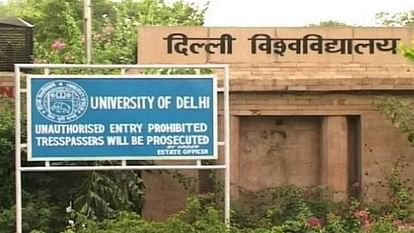 Delhi University
Photo: File photo
Academic Council meeting is going to be held in Delhi University on Wednesday. In this meeting, there will be discussion on approval of UG-PG third semester syllabus and admission eligibility for PG admission. Along with this, BA Honors Psychology starting from the Campus of Open Learning and the fees fixed for it will be kept in the meeting to pass. Apart from this, some other skill-based courses started for all the students of DU will also be stamped. It may be noted that till now the academic council has approved the syllabus of first and second semester only.
In fact, teachers' organizations have been protesting against passing the syllabus of different semesters. Organizations say that students should know at one go what they have to study in the next semester. This time (2023-24) postgraduate (PG) admissions in DU are to be done through Common University Entrance Test (CUET) like UG (undergraduate). In such a situation, eligibility for admission to postgraduate level will be considered in the meeting. There will be no change in program based eligibility of UG courses for admission under 2023-24. It will be the same as last year.
Admission to postgraduate courses will be done on the basis of CUET score. It is mandatory for the students to take admission in PG programs of DU to give CUET exam. There will be two categories under program based eligibility. In the first category, there will be students who have done graduation or post-graduation from any other university, while in the second category there will be students who have done honors or bachelor's degree from Delhi University. There will be fifty-fifty percent seats in both the categories. Admission to PG programs of DU's Non-Collegiate Women's Education Board (NCWEB) will also be done on the basis of CUET score only. Whereas admissions to PG programs of the School of Open Learning will be on merit based on the recommendations of the Distance Education Board.
Seat allotment in PG (Ayurveda) program of IP University today

Guru Gobind Singh Indraprastha University (IP University) has started the admission process for PG (Ayurveda) program for the session 2022-23. Allotment of seats will start offline from today. A total of 18 seats are available under this programme. Four seats are available in Rachana Body, Four Seats Kaya Chikitsa, Three Seats Disease Diagnosis and Pathology, Three Seats Panchakarma and Four Seats Kriya Body. This program is available at Chowdhary Brahmaprakash Ayurveda Charak Sansthan, Delhi.

Allotment of seats to the successful candidates of AIAPGET 2022 entrance exam who have obtained BAMS degree from any affiliated college of IP University and who have applied for admission to this program will be done offline at Dwarka Campus. Other details are available on both the University websites https://ipu.admissions.nic.in and https://ipu.ac.in.