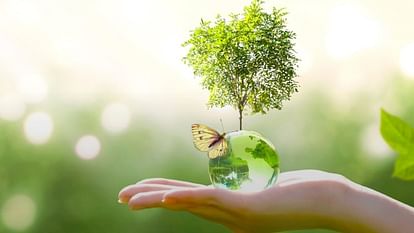 code picture
– Photo : Agency (File Photo)
Expansion
The land of Delhi will be clearly visible on Earth Day. For this, LG VK Saxena has started a campaign "100 days to defeat plastic". On Saturday, he flagged off this campaign from Bansera Park located in Sarai Kale Khan. During the programme, a pledge was also administered to the people present not to use plastic in daily life. Also unveiled the mascot of the campaign "Nivaran Dadi".
An action plan was issued to encourage alternatives to plastic. LG said that now there is no need to discuss the ill effects of plastic. Its side effects are well known. He said that the people of RWA and Market Association have taken the initiative to make Delhi plastic free. We will definitely be successful in this endeavour. Delhi Chief Secretary Naresh Kumar, DDA Vice-Chairman Shubhashish Panda, Corporation Commissioner Gyanesh Bharti, environmental activist Ripudaman Belvi, popularly known as Plagman and other senior officials were present on the occasion.
Plastic is important in the problem of water logging

Delhi has to face the problem of water logging every year. Plastic is also largely responsible for this. He called upon the RWAs and Market Traders Association to join strongly in this campaign. Delhi is moving towards the goal of zero waste. At present, the corporation has declared 120 colonies and group housing societies of Delhi as zero waste colonies.
Stop using plastic bags: LG

The Lt Governor said that he wants to make Delhi a beautiful city and more and more efforts are being made for this. The mountains of garbage are also decreasing. Corporation and PWD roads are being cleaned. There is still a lot of work left. If we stop taking plastic bags from vegetable sellers, shopkeepers and other people, then this problem will automatically end.

Action plan prepared for the campaign

Delhi emits 11 thousand tonnes of waste daily. Of this, about 10 percent is plastic waste. Under this campaign, the corporation will conduct a thorough inspection of all shops and markets to seize banned single-use plastic. Plogging drive with Plogman of India as the brand ambassador of the campaign, distribution of cloth bags, opening of more Vikalp stores, wall art and other installations related to plastic alternatives, awareness and outreach programs to discourage the use of single-use plastics .
The corporation will strategically focus on making markets, parks, hotels, banquets plastic free zones within these 100 days. After inspecting every shop, factory, commercial establishment, stickers declaring SUP free zone will be pasted in these areas. Name boards made of plastic waste will be used in the parks. The public health department of the MCD will amend the license conditions so that hotels, eateries and restaurants do not use single-use plastic, especially plastic cutlery. A comprehensive mapping of the mall will be done. Schools and universities will aim to make SUP-free campuses.