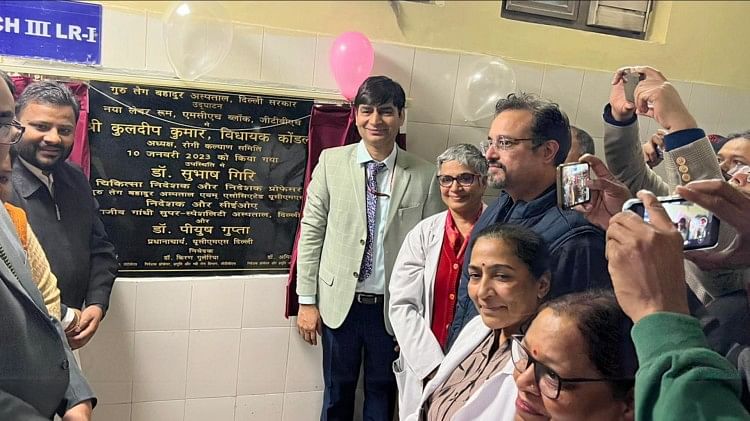 Inauguration of new labor form
– Photo: Amar Ujala
Expansion
Shri Kuldeep Kumar, MLA Kondli and Chairman Rogi Kalyan Samiti GTBH and Dr. Subhash Giri Medical Director GTBH inaugurated new labor room in MCH block GTBH Dr. Amita Suneja, HOD Obstetrics and Gynaecology, Dr. Rajat Jhamb AMS and Dr. Abha Sharma, Senior Specialist, Department of Obstetrics and Gynaecology.
With this new facility, 15 additional labor rooms, beds and 2 tables will be functional in GTB Hospital, which will decongest the old labor rooms. The Department of Obstetrics and Gynecology is one of the busiest departments at GTB Hospital, which caters to the needs of the Yamunapar population and the surrounding Uttar Pradesh. Around 1800 to 2000 child deliveries are done in GTB per month, including 500 through Caesarean section. The addition of the above facility will improve the quality of patient care and reduce the problem of overcrowding.
another new feature

Orthodontics and Dentofacial Orthopedic is to be started in the Department of Dentistry. This facility has been started by Dr. Harpreet Grewal, Professor, Department of Dentistry GTBH under the guidance of Dr. Subhash Giri, Medical Director, in the already functioning Department of Dentistry.
Orthodontics is a dental specialty that deals with the prevention, occlusion and correction of occlusion (i.e. irregular teeth and dento-facial deformities), thus creating a pleasant and beautiful smile in people of all ages from infant, adolescent to adult .

There are limited government hospitals and facilities providing specialized orthodontic treatment, especially in East and Northeast Delhi, which accounts for about 1/3 of Delhi's entire population. Until recently, patients mostly from the lower and middle socio-economic strata of society had to travel long distances to seek such specialized treatment in other institutions like AIIMS/Meds, which themselves had a growing patient waiting list. Is.
To benefit the increasing number of patients and the needy at large, UCMS and GTBH have developed this new facility of Orthodontics and Dentofacial Orthopedics with five experienced specialists in this field and fully functional to provide state of the art services A dedicated area has been opened for dental chairs.