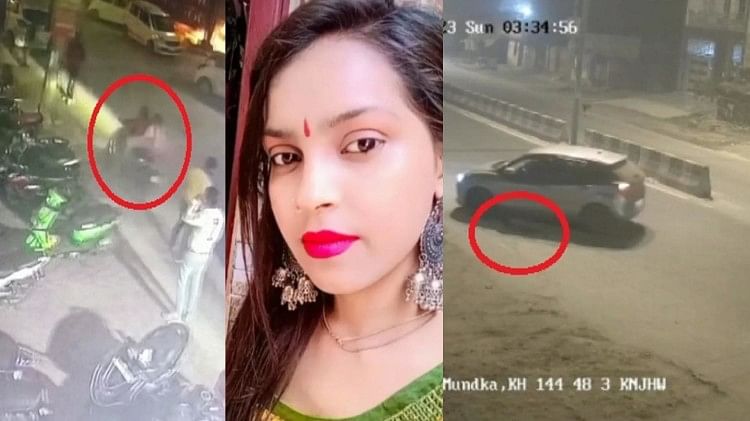 Kanjhawala case
– Photo: Amar Ujala
Expansion
The Delhi Police on Sunday claimed that the accused involved in the Sultanpuri incident have confessed to their crime. These people have revealed that after hitting the scooty, they came to know that the girl was trapped under the car. To get him out, the accused had also driven the car back and forth twice. Even after this, when the girl did not leave, they got scared and started driving the car fast.
The accused said that they did not remove the girl by stopping the car because they feared that they might get implicated in the murder case. The girl was dragged from the car so that she could leave on her own.
The police investigation in the Sultanpuri incident is almost nearing completion. According to police sources, the accused told that only to get the girl out of the car, they U-turned the car several times and took her to bad roads. After roaming for about two hours, while taking a U turn in Kanjhawala, the girl got out of the car. After that, he drove the car at high speed and reached the car owner's house. During this, they informed the car owner and Ankush about the incident.
During interrogation, the accused said that Amit Khanna, Manoj Mittal, Krishna and Mithun were in the car. The accused in the car told that they were quite scared after the incident. He could not understand anything at that time. The accused have admitted that music was not playing in the car after the incident. To save themselves, they had told to play music in the car. Because of which they did not know about the girl being trapped in the car. On the other hand, official sources of the police say that the accused have confessed to their crime during interrogation and their statements have also been verified.

Anjali's mother is undergoing treatment, rituals will be performed after reaching home

In the Kanjhawala case, Anjali's mother Rekha is still undergoing treatment in a hospital in Delhi. He was admitted to the National Heart Institute after his health deteriorated. Rekha is likely to be discharged from the hospital on Monday. After Anjali's death, religious rituals were to be organized at her house on Sunday.

Due to the mother being in the hospital, the rituals will be performed on Monday or Tuesday. Anjali's maternal uncle told that since her sister's health was not good, she had to be admitted to the hospital. Along with anemia, dialysis is also going on. Even after being discharged from the hospital on Monday, rituals will be performed at Anjali's house. Expressing regret, he said that till now he has not received the amount as immediate relief from the Delhi government.