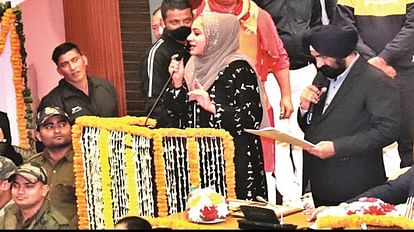 Rafia…
– Photo: Amar Ujala
Expansion
Apart from Hindi, English, some councilors also took oath in Bhojpuri, Sanskrit and Haryanvi in ​​the MCD House meeting on Tuesday. Many women councilors took oath in English with fervor. The special thing is that the Muslim woman was the first among the councilors to take oath in English. After this many women took oath in English.
AAP councilor Rafia Mahir started taking oath in English from ward number-78 Bazar Sitaram. Like AAP councilors Sultana Abad and Aale Iqbal, he raised the slogan of 'Hindustan Zindabad' after taking oath. After him, AAP corporator Shilpa Kaur from Ward No-102 Khyala took oath in English.
Meanwhile, BJP councilor Neelam Krishna Pahalwan from Ward No. 128, Dichau Kalan Ward, who came completely dressed as a rural woman with her head covered with a pallu, surprised all the councilors as soon as she uttered her first word to take oath. Presiding Officer Satya Sharma spoke for me to administer the oath, after which Neelam read out the affidavit in English in a hurry. During this, she also kept handling her pallu. A similar scene was witnessed in the House once again.
AAP corporator Sugandha from Ward No-178 Tughlakabad also reached the dais covering her head with pallu and took oath in English. Similarly, AAP corporator Hema Vohra from ward number-184 Jaitpur and BJP's Neelam Chowdhary from ward number-214 Azad Nagar dressed as rural women and started reading affidavits in English.
225 councilors took oath in Hindi

Out of 250 corporators, 225 corporators took oath in Hindi, 15 in English, five in Urdu, two each in Punjabi and Sanskrit, one corporator in Bhojpuri and one in Haryanvi. AAP councilor from Chandni Chowk, Sardar Poonardeep in English, AAP councilor in Sitaram Bazar, Rafia Mahir in English, BJP councilor in English, Sardar Arjunpal Singh Marwah, Congress councilor in Abul Fazal Enclave in English, Ariba Khan in English, Congress councilor in Zakir Nagar, Nazia Danish in Hindi, Congress's Shagufta from Chauhan Bangar took oath in English, BJP's Manisha from Subhash Mohalla and BJP's Kamal Bagdi from Ramnagar took oath in Sanskrit.