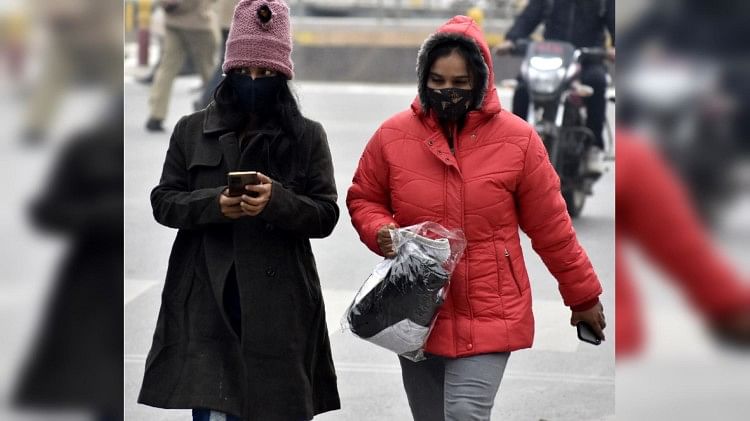 code picture
Photo: Amar Ujala.
Detailed
With the falling mercury, the entire North India is gripped in the grip of bitter cold. Delhi was colder than many hilly areas on Thursday as the mercury dropped to minus 3 degrees Celsius in the national capital. Relief is expected from tomorrow.
The minimum temperature was recorded at 2.2 degrees Celsius at Aya Nagar and Ridge Center in Delhi. This is the lowest January temperature in the last two years. Dense fog along with cold kept normal life out of gear. Visibility was recorded up to 50 meters at 5 am on Thursday. Similar weather patterns prevailed in UP, Haryana, Punjab, Rajasthan and Uttarakhand. In UP, Jhansi remained the coldest city in the state with a temperature of 3.9 degrees Celsius. According to the Meteorological Department, there will be no respite from the cold for the next 24 hours.
Things will improve in North-West India from tomorrow:

According to the Meteorological Department, due to Western Disturbance, the situation will start improving from North-West India from January 7. Icy winds coming from the mountains forced people in the plains to hide in their homes.
14 trains affected by fog

According to a railway spokesperson, at least 12 trains reached New Delhi late by one-and-a-half to six hours and two had to be rescheduled. Delhi airport also issued an alert of low visibility due to fog.

Sikar is the coldest in the plains

Rajasthan's Fatehpur (Sikar) was the coldest in the plains with minus 1.8 degrees. After this, Churu in Rajasthan was the second coldest place with minus 1.5 degrees Celsius. Gurdaspur in Punjab and Hissar in Haryana were the coldest with a minimum temperature of 2.2 degrees Celsius.
Delhi remained colder than Shimla-Mussoorie

According to the Meteorological Department, Delhi on Thursday from Dalhousie (4.9 degrees), Dharamshala (5.2 degrees), Kangra (3.2 degrees), Shimla (3.7 degrees), Dehradun (4.6 degrees), Mussoorie (4.4 degrees), Nainital (6.2 degrees) It was cold